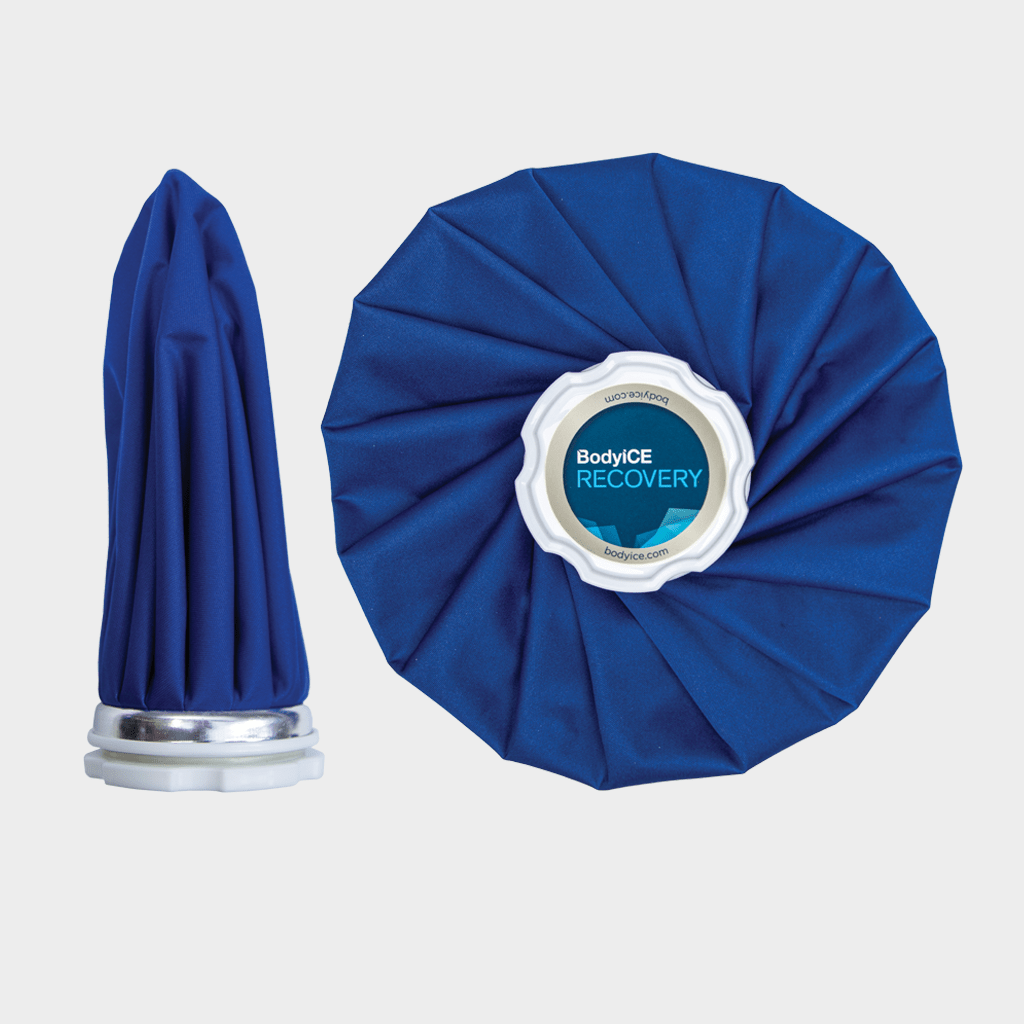 Replacement 11-Inch Wide Mouth Ice Bag
---
NO LEAKS. NO MESS!

Our durable, leak proof ice bags come in two sizes: 9 and 11-inch. The bag can be used as both an ice pack or heat pack using ice or hot tap water. We recommend using our ice bags with our joint specific neoprene straps to hold the ice bag securely in place over your injury, so that you can be hands-free and benefit from the comfortable compression.

Our new and improved design includes an easy grip screw top lid and our extra wide opening (6cm) means you'll be filling up your ice bag in no time!

The polyurethane (PU) fabric reduces condensation and allows our ice bags to stay cold (or warm) for longer periods of time. We have sourced the best material possible to ensure our ice bags are water tight, durable and soft on the skin.

The 11-inch Ice Bag is suitable for Large Universal, Shoulder, Back & Hip designs.

 
Reduces pain, swelling & inflammation from acute or chronic injury and surgery.
Improves post surgical recovery times.
Retains temperature for hours.
No leaks, no slipping. Just comfortable cold compression.
Delivers optimal cold therapy below 10℃.
Recommended by orthopaedic surgeons and medical professionals nation-wide.
1. Unscrew the lid and fill 2/3 with ice or hot tap water (not boiling).

2. Secure the lid firmly and place through the hole of our joint specific neoprene straps. The velcro adheres anywhere on the neoprene strap allowing a custom fit and comfortable compression.

3. Empty your ice bag and store away from direct sunlight when not in use.
What happens if I can't make enough ice at home?

No ice? No worries. We have a trick that works a treat for those that can't access ice regulalry.

INSTRUCTIONS:
Place 1 part alcohol (eg. Methylated Spirits) to 3 parts water into your ice bag and store in the freezer. If the bag freezes too solid, add more alcohol. If it's too stiff, add more water. You can keep the ice bag in the freezer for regular use.

* If using just ice, do not place your ice bag in freezer after use as the melted ice will freeze solid and you will risk puncturing your ice bag. 

Caution: Alcohol has a lower freezing temperature that water so the ice bag will be very cold. You may need a thin layer of material between your skin and the ice bag to avoid an ice burn.
Do these ice packs work for all injuries?

Our injury ice packs are useful in controlling pain and inflammation for all types of musculoskeletal injuries such as sprains, strains, ligament and tendon damage as well as contusions. They are also great to use during recovery from orthopaedic surgery and are trusted by orthopaedic surgeons nationwide in reducing pain, swelling and the need for analgesics.
Can I use recovery ice packs on my back?

Yes, our back and hip design fits comfortably on your back with the help of our high stretch neoprene support. It can be used as a hot or cold pack, providing relief from back stiffness and pain. 
What is the best ice packs for knees?

Our Medium Universal is our most popular choice for knees. If you're >95kgs, we recommend choosing the Large Universal. For children under 8, we recommend the Small Universal.
What if I don't have ice?

No problem. We have a solution for you if accessing ice is a hassle and you won't believe how simple it is! All you need to do is fill the ice bag ⅔ full with an alcohol solution. We recommend 1 part alcohol (methylated spirits is fine) and 2 parts water. Then place it in the freezer. Due to the alcohol (acting as an antifreeze) It won't freeze solid and will perfectly mould around your injured area. However, due to the lower freezing temperature of alcohol, the ice pack will be extra cold, so place a thin layer between your skin and the ice bag to avoid an ice burn. You can then store the ice bag in the freezer for ongoing use.
What's included in the pack?

Each BodyICE Recovery pack includes an ice bag, a joint specific neoprene support and a net carry bag. You can also purchase additional ice bags.
Can I put the ice bag in the freezer?

Unless you have prepared the ice bag using the alcohol solution explained above, then you should not store the ice bag in the freezer. If you do, the melted ice will free solid and you will tear the ice bag when you try to break it up.
Can I use your packs for heat therapy?

Yes, our ice bags are great for heat therapy. Just fill the ice bags with hot tap water (not boiling) and apply with the straps as per normal.
Are you ice pack safe for children?

Yes absolutely! Our ice packs are totally safe for children however, you should monitor your child whilst using the product to make sure they are comfortable at all times.
No, we don't use gel for our Recovery range. We believe that ice in our insulated bags, stays colder for longer and achieves a more stable and optimal temperature over gel packs.
Can I take BodyICE to hospital after surgery?

Yes. Orthopaedic surgeons recommend icing after surgery. All hospitals have ice so you can request your nurse to fill your ice bag for you when you're recovering from surgery in the hospital ward.
What is the best ice packs for ankles?

We suggest using the Small Universal Ice pack for ankles. It is also suitable for elbows, wrists, shins and children's knees.
Can your shoulder packs fit both right and left sides?

Yes, our shoulder ice pack is designed to fit on either your left or right shoulder. The straps are long enough to fit around a large adult.
This product is rated 4.9 of 5.0 stars.
It has received 16 reviews.