A Story of Triumph Over Adversity
"In 2006, Olympic Champion Lydia Lassila founded BodyICE with a strong mission: TO HELP PEOPLE OF ALL AGES RECOVER FROM THEIR INJURIES AND FIGHT PAIN AND INFLAMMATION NATURALLY USING SIMPLE ICE AND COMPRESSION"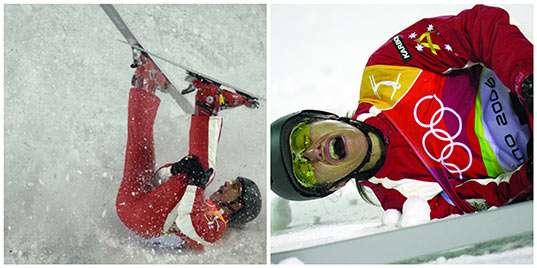 BodyICE was designed by Lydia Lassila, aerial skiing Olympic Champion, after a devastating knee injury at the 2006 Winter Olympics in Torino, Italy. With time off her skis in rehabilitation and recovering from surgery, Lydia became frustrated with the inefficiency of current cold therapy products on the market that leaked, slipped and were not cold enough.
Lydia decided to design and develop BodyICE – A range of ice packs that are easy to travel with, offer compression and mobility and service any joint or area on the body. Leaving no stone unturned, and using the highest quality of products, Lydia coupled the traditional ice bag with elastic neoprene compression straps all carefully designed to fit specific joints and areas.
The end result, BodyICE, a no-fuss ice and compression system that comfortably secures around injured joints and body parts. The ice bags can also be filled with hot tap water for soothing heat therapy.
BodyICE has played an integral part in Lydia's recovery and management of all kinds of injury, helping her reach the pinnacle of her sport. Undeterred from the injury and trauma to her knee in 2006, Lydia bounced back and won Gold in the Vancouver 2010 Winter Olympics. Four years later, after becoming a mother, Lydia defended her title at the Sochi 2014 Winter Olympics winning Bronze and becoming the first woman ever to compete a quad-twisting triple somersault, cementing her in the history books as one of the aerial skiing's greats.
Away from the sporting arena, Lydia is a mother of two boys. It was her journey into motherhood that inspired BodyICE Woman – a range of stylishly designed remedial ice and heat packs just for women offering calming relief to the perineum after childbirth and breasts throughout the breastfeeding journey. BodyICE Kids was again borne out of necessity. With very few effective and attractive options on the market, Lydia designed her own family of gorgeous gel bead ice and heat packs to soothe knocks and bruises or comfort the little ones in our lives with warmth.
Here at BodyICE HQ our team is driven and motivated by wanting to help you recover from your injury physically, emotionally and mentally. We want you to be able to target any injured area with ease and we want to reduce your pain naturally. With our expanding range of products we have cold and heat therapy solutions for you that are easy to use, effective, portable and reusable – helping you get back on track to being the best version of yourself.