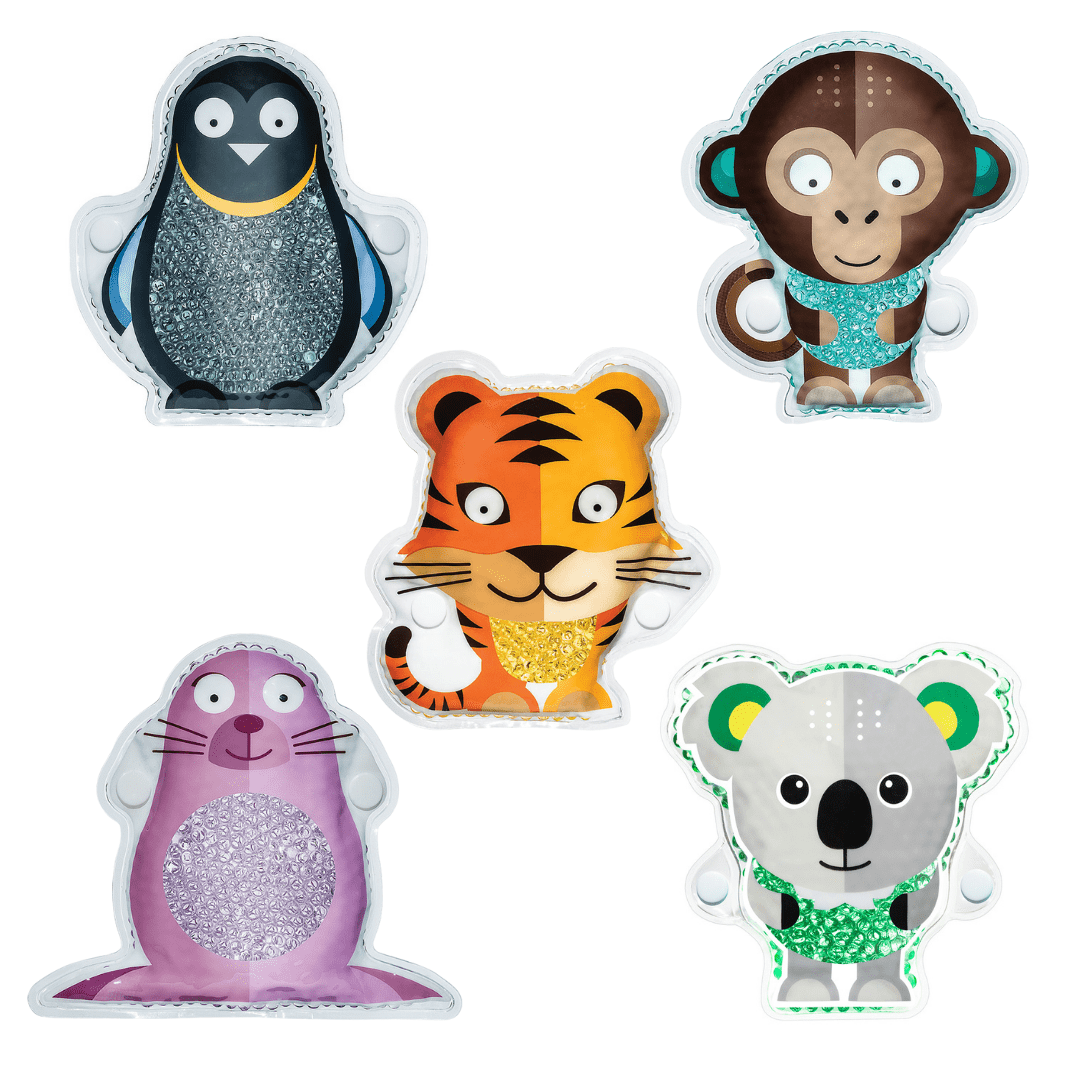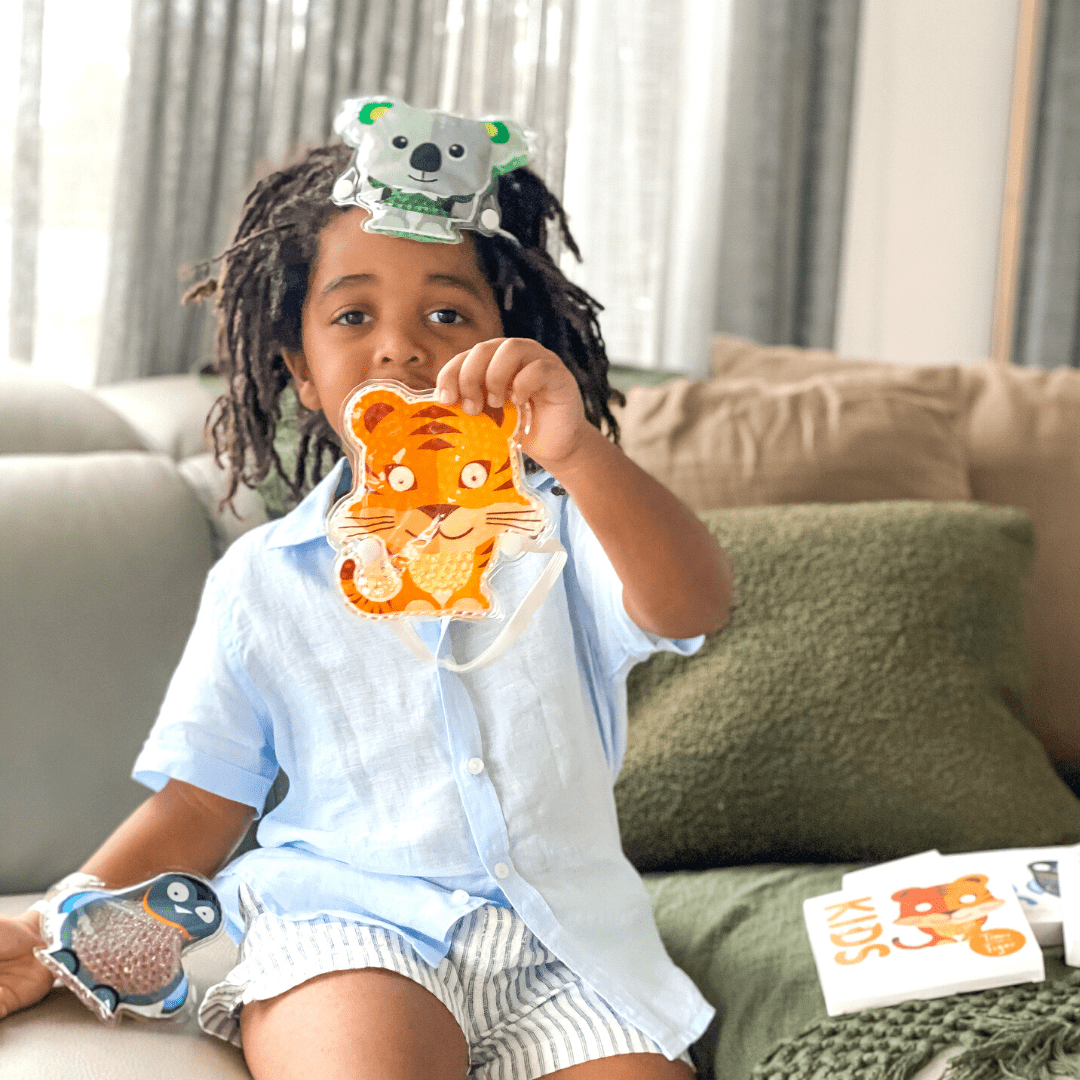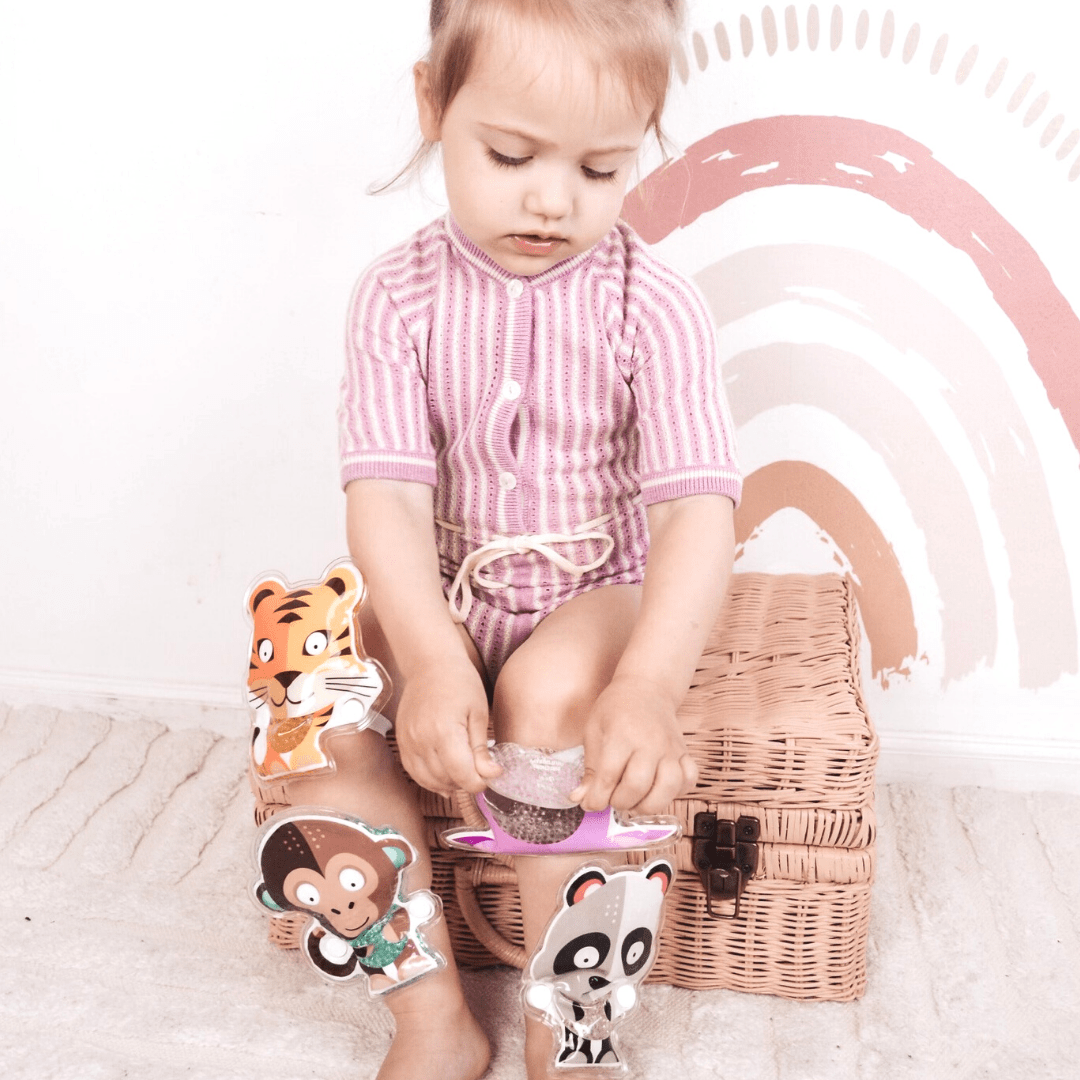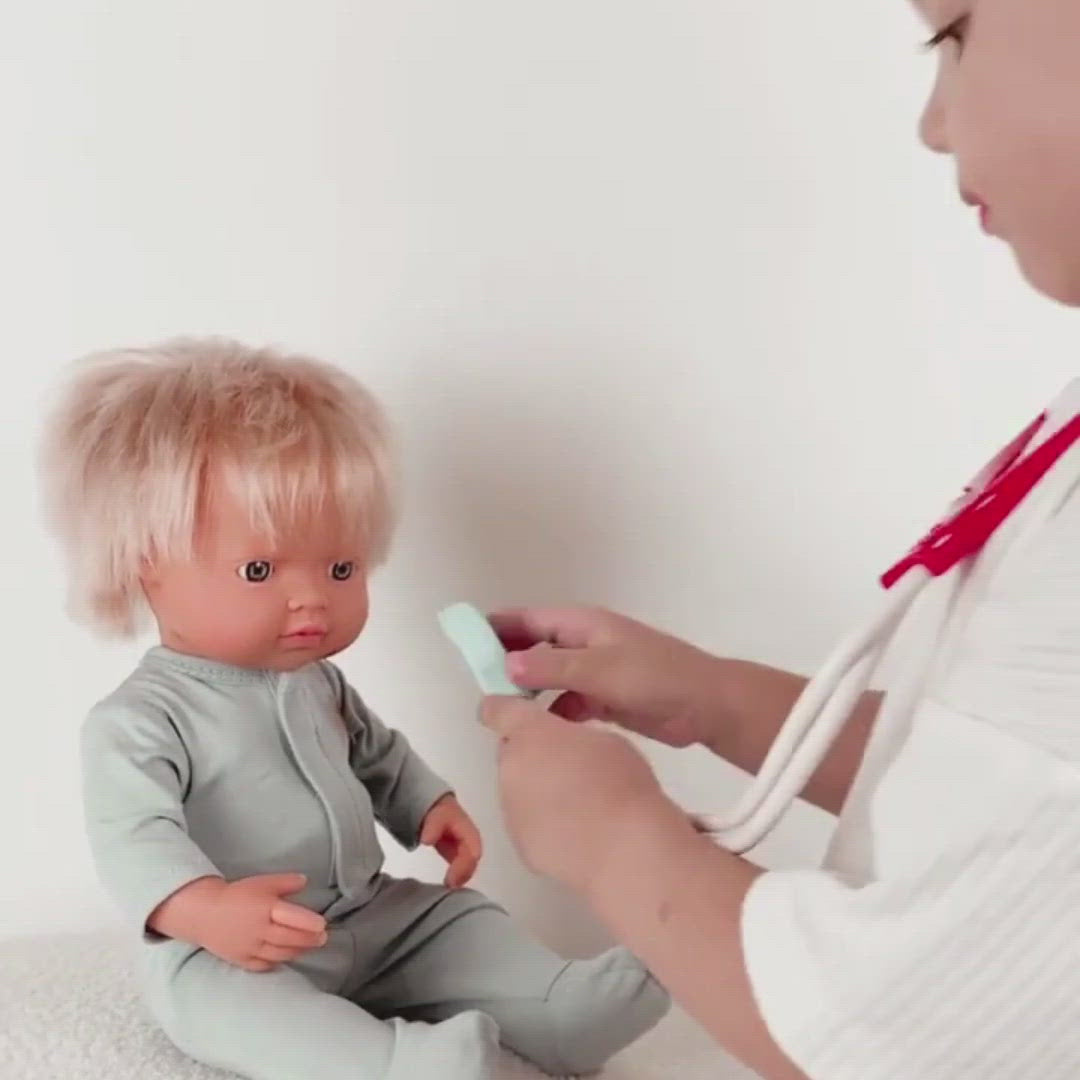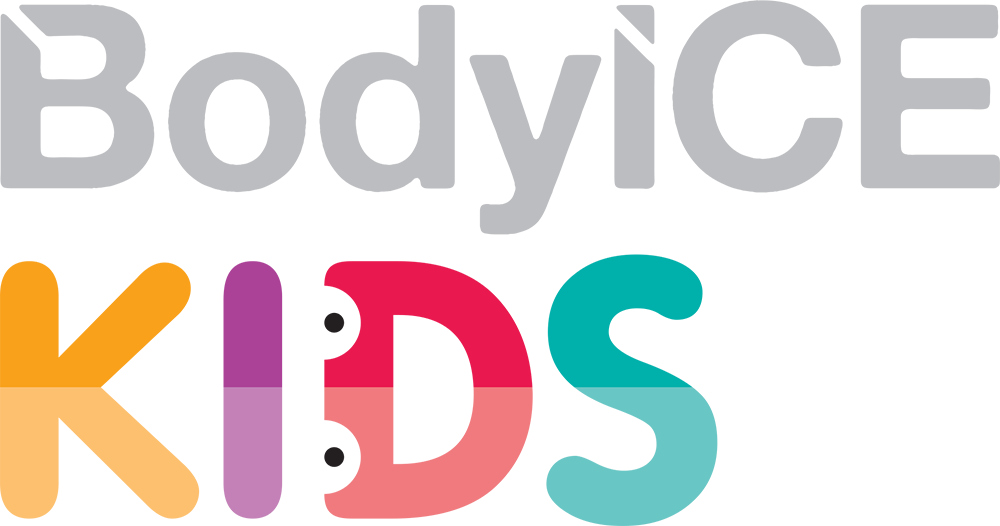 BodyICE Kids Ice Pack Bundle
---
Simple, fun, safe and effective cold packs for kids!

Purchase the complete family of Kids ice packs and save! Included in your bundle: Pablo the Penguin, Milo the Monkey, Timo the Tiger, Sasha the Seal & Kai the Koala

The BodyICE Kids range has been designed with your little one's comfort and safety as the number #1 priority. They are cute and colourful, and are designed to cool and soothe knocks and bruises, providing instant comfort when your little one needs it most. 

Our cooling pads are made from medical grade PVC and contain non-toxic gel beads which are super fun for tactile play. You can store our ice packs in the freezer so that they're ready for children to grab when needed (or for play time)or simply microwave them to use as a warming heat pack. Our friendly and colourful characters are great for tactile play and makes the whole process of icing an injury pain free for both parent and child (yep we've been there)! 

Better still, our cute animal ice packs come with straps to keep them in place so your little one can go hands free! You can even use these friendly critters in your lunch box to keep lunch and snacks cool and fresh.
Durable and reusable.
Instant pain relief.
Straps included to keep the pack in place.
Use as hot or cold.
Non-toxic and child safe.
Heat or cool the BodyICE Kids as per instructions below. 

COLD THERAPY

Place in freezer for approximately 2 hours or submerge in icy water until desired temperature is achieved. Place on injured area and secure with straps provided. Apply for the medically recommended time of 10-15 minutes.

HEAT THERAPY

Submerge in hot water or warm in microwave for the suggested times below. Heat in additional 5-second increments until desired temperature is achieved. Always test temperature before application.

• 700 Watt Microwave: 20 seconds

• 1000 Watt Microwave: 15 seconds

• 1200 Watt Microwave: 10 seconds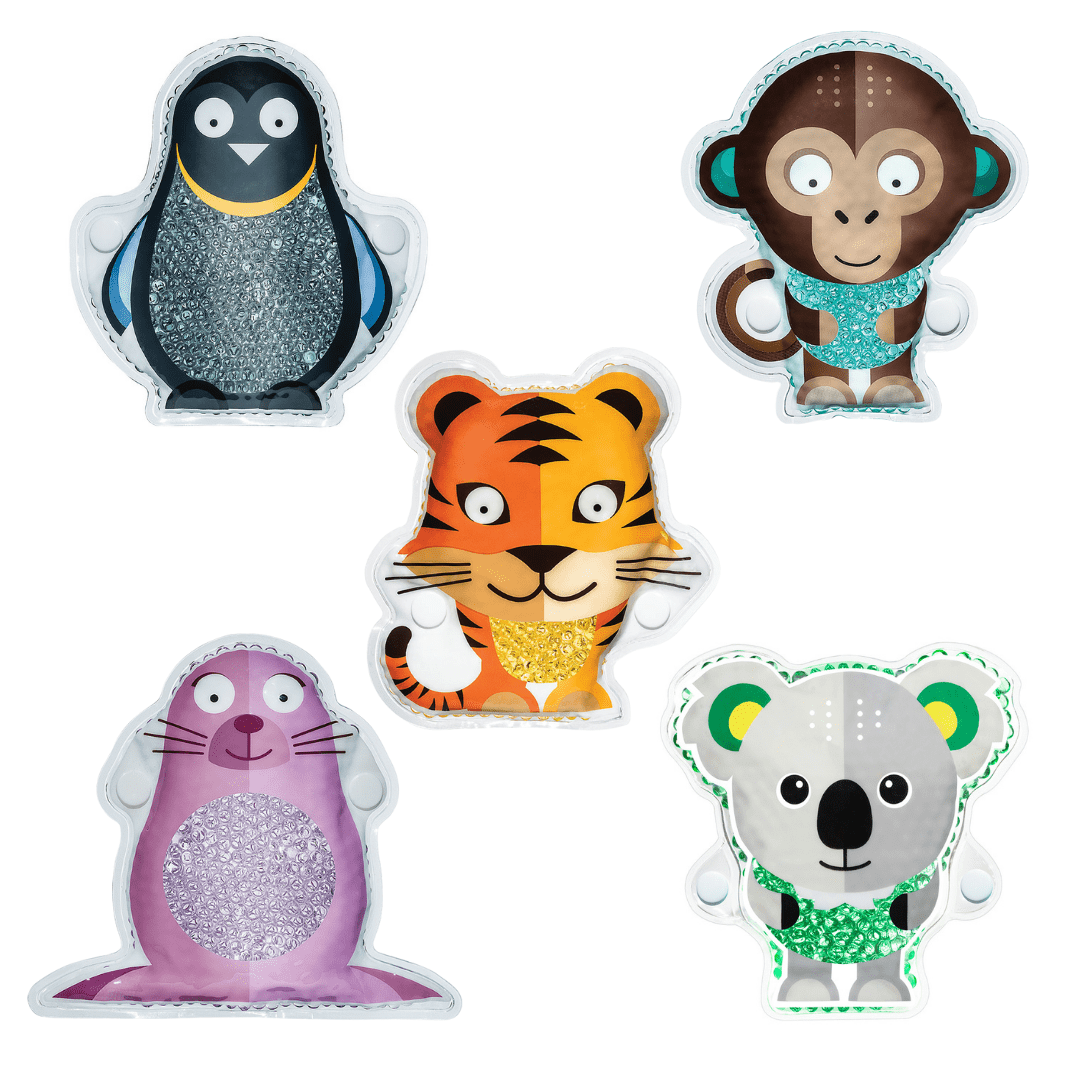 Why do we need ice packs for kids?

Our kids ice packs are a the perfect addition to any family first aid kit. They are of premium quality and take the fear and intimidation away from placing an ice pack on a child. Our ice packs can also be use as a heat packs, they are non-toxic and come with straps to keep them in place. Ice packs are a simple and fast way to relieve pain and inflammation associated with the inevitable bumps and bruises, toddlers and small children experience on a daily basis. They are also useful in soothing fever, insect bites, rashes and minor burns.
How long should I leave an ice pack on a child?

Whether you're using BodyICE kids for hot or cold therapy, we recommend using the pack for 10-15 minutes at a time, as often as needed throughout the day. Please allow the skin temperature to return to normal before re-applying.
How do I use an ice pack on a child?

Firstly make sure the temperature of the pack is comfortable for your child. For cold therapy, place the kids ice pack in the freezer for up to 2 hours before use. For heat therapy, warm the pack in the microwave in increments of 10 seconds. Then, place the ice pack over the injured area and secure it with the straps provided.
What kind of injuries are best treated with an ice pack?

Ice packs are most effective when applied to injuries such as bruises, sprains, strains, muscle aches and fever. Ice packs can also reduce pain sensations and symptoms associated with insect bites, minor burns and rashes.
What happens if my child swallows the gel beads?

The gel beads used in our kids packs are non toxic, however, when immersed in liquid, the gel beads will expand from 0.5cm to 1cm. If your child swallows several gel beads, you should seek immediate advice from your doctor as there is risk of the gel beads expanding and obstructing digestive tracts. 
Can you use BodyICE Kids as a heat pack?

Yes, just put your BodyICE Kids heat packs in the microwave following the recommendations on the back of the pack.
This product has no reviews yet.