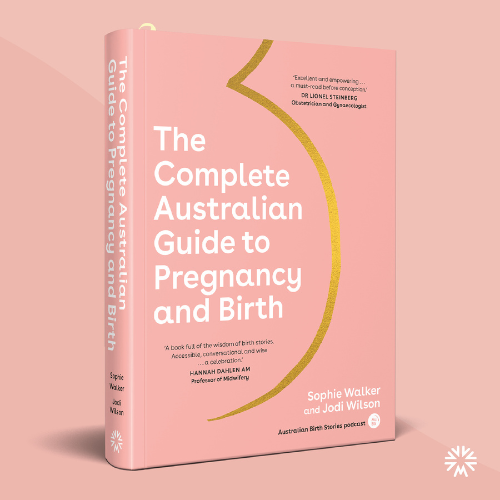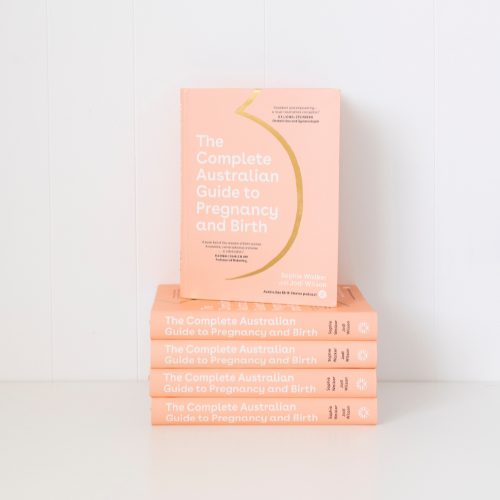 The Complete Australian Guide to Pregnancy and Birth
---
Everything you need as you journey through pregnancy and prepare for a positive birth experience

By Sophie Walker and Jodi Wilson

'I wish someone had told me!' It's a phrase uttered by countless women after they give birth for the first time. Here's the book that shares the wisdom of women and their birth stories, so that you can make informed and empowered decisions that are best for you.

The Complete Australian Guide to Pregnancy and Birth draws on the expertise of dozens of doctors, midwives and other health specialists to offer the most comprehensive and up-to-date information about pregnancy, labour, birth and early postpartum in Australia. From making essential care decisions, asking questions of care providers and managing overwhelm to navigating physical changes and preparing for labour, this book is your trusted companion as you make the transition to motherhood. And among all the facts, stats and info is a lot of gentle and kind advice, including first-hand accounts of births, in all kinds of birth settings, from families of diverse backgrounds.

On every page this book reminds you that your pregnancy matters, your labour matters, your birth matters.

About the Authors

Sophie Walker is the founder of Australian Birth Stories, which includes the #1 podcast for birth and postpartum advice (10m+ downloads) and an online education hub offering support and guidance from pre-conception through to the first 12 months. She has a master's degree in public health, is a mum of three and is passionate about empowering women on their journey into motherhood.

Jodi Wilson is a writer and prenatal yoga teacher who works alongside Sophie on the Australian Birth Stories podcast. This is her second book.
Heat or cool the BodyICE Woman® range as per the following instructions. Slip on the protective, washable sleeves provided (optional) and place breast or perineum pack in place. Apply for the medically recommended time of 15 minutes. 

COLD THERAPY

Place in freezer without sleeves for approximately 2 hours or submerge in icy water until desired temperature is achieved. 

HEAT THERAPY

Submerge in hot water without sleeves or microwave for the suggested times below. Heat in additional 5-second increments until desired temperature is achieved. Always test temperature before application.

• 700 Watt Microwave: 20 seconds

• 1000 Watt Microwave: 15 seconds

• 1200 Watt Microwave: 10 seconds
Wash your gel-bead ice pack with warm soapy water. You can also hand wash your breast or perineal pack sleeves and air dry for continued use. Store in the freezer or in an airtight container and away from sunlight when not in use.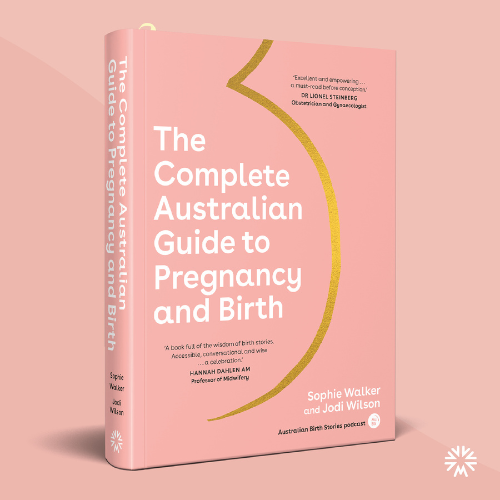 When should you use hot and when should you use cold?

Our breast and perineal packs can be used either as a heat pack or as an ice pack.

When heated, the breast packs can help increase blood flow and stimulate your milk flow which is especially helpful before breastfeeding, whilst expressing or if you have a blocked milk duct. When frozen, the breast packs provide soothing relief from inflammation associated with breast surgery as well as engorgement.

The perineal pack when heated can help increase blood flow and soften the perineum during the second stage of labour. This helps reduce perineal tearing during childbirth. When frozen, the perineal ice pack provides cooling relief to the perineal area which can be swollen and painful after childbirth. It can also be used to ease discomfort over a c-section scar.

Our breast and perineal packs also come with washable sleeves which are optional to use depending on your skin's sensitivity.
Can the breast packs be used whilst the baby is latched and nursing?

We don't recommend using the breast packs simultaneously when breastfeeding so that your baby can latch properly without
interference. We do, however, recommend using the breast heat pack just before feeding time to help increase circulation, open your milk ducts and stimulate the let down reflex. Our breast packs are also designed to fit around your breast pump.
Is there an expiration date?

No, there isn't an expiration date on our breast and perineal icepacks. They are designed to be reusable and are made from medical grade PVC so that they don't deteriorate. You should however, store them in an airtight container away from heat and direct sunlight to preserve the integrity of the gel beads.
Can I use the BodyICE Woman Breast Pads for swelling after breast augmentation?

Yes! The breast ice pads are great for controlling pain, swelling and inflammation experienced after breast augmentation or any kind of surgery or trauma that causes pain and inflammation including mastectomy, breast reduction and fat transfer surgery.
What happens if I rupture my pack?

The most common reason for packs rupturing is if they are heated for too long in the microwave. However, if upon purchase you find your pack damaged, please get in touch with usinfo@bodyice.com.auand we will arrange a replacement.
How long should I use a cold/hot compress?

Whether you're using our packs as hot or cold, we recommend using them for 15-20 mins at a time and follow the heating and cooling instructions on the back of the pack.
Are your packs medical grade and non-toxic?

Yes, our packs are made from medical grade PVC and safe to use directly on your skin. The gel beads inside are non-toxic. In the event of a breakage, keep them away from small children. 
Should I use the Breast Packs for mastitis treatment at home?

If you do develop mastitis (inflammation of the breast tissue) you could be experiencing breast pain, swelling, warmth and redness. You can use self massage and a warm breast pack before feeding to help the milk flow and a cold pack after feeding. However, if you develop a fever or flu like symptoms, you may have an infection and you should seek medical care from your doctor.
Can I use the perineal ice pack to treat haemorrhoids?

Yes, our perineal ice pack is long enough to treat the perineum as well as haemorrhoids simultaneously.
This product has no reviews yet.